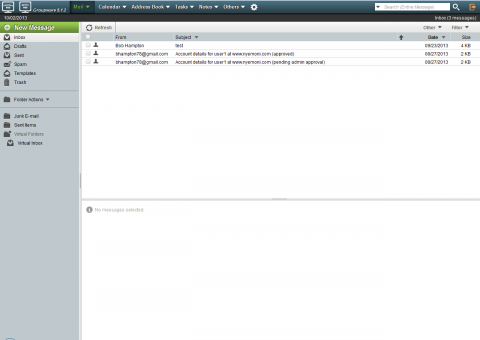 Furniture-Pro Webmail now has a new look and feel!
The login page for Furniture-Pro Webmail is very straight forward - simply enter your FP user name and password on the form and select your site code from the pull-down menu. Then click on the Login button.
Once you are in the Groupware portal interface, click on Inbox on the left or Mail from the menu on the top and your messages will appear in the main screen to the right. Click on a message to read it in the lower screen or double-click to open it in a new window.
From the mailbox view, you can:
Select a message by clicking in check box to the left of the message.
Select multiple consecutive messages by clicking the check box for the first message and "Shift-clicking" the check box for the last message.
Select all messages on the current page by clicking the check box above and to the left of all the messages.
Once a message is selected, you can delete, forward or view the selected message(s).
While reading a message, you can:
Delete, forward, reply to, print and many other functions
Printing a message will allow you to select from your available Windows printers.
To send a message, click New Message in green, right above Inbox. The new email editor has:
Access to an address book. You can add addresses to the address book to make it easier to find contacts.
A spell checker. It will even give you suggestions about possible spelling of the misspelled word.
The ability to easily add attachments.
The ability to use formatting, fonts, colors, and much more. Just click on the check box next to HTML composition.
There are many options and features that are not covered here, of course, but feel free to play around with it and get a feel for it.